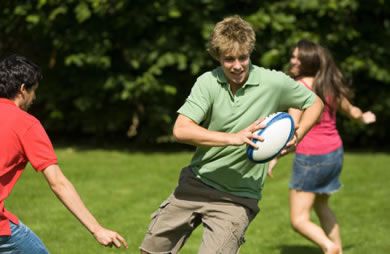 Many people think of exercise as a chore—something they have to do to reach a goal, like lose weight, tone up, or be a better athlete. But fitness is more than just a means to an end. It's a healthy behavior that should be a permanent part of every person's life, simple because it offers so many benefits. SparkTeens cares about you and your fitness level, so we developed this guide to help you understand what really counts when it comes to exercise.

We recommend that you take your time reading this guide. You can start by clicking on topics that appeal to you, or by reading the guide in order.

The Benefits of Exercise
Who should exercise?
The 3 Keys to Fitness for Teens

#3 Flexibility Exercise
Creating Your Own Workout Plan

The Benefits of Exercise
You can expect some major benefits by exercising. Check out what a consistent fitness program can do for you:

How Exercise Benefits Your Body

Boosts metabolism
Helps you reach and maintain a healthy weight
Keeps you strong
Improves athletic performance
Reduces injury risk
Builds stronger bones
Improves your appearance
Enhances your immune system
Prevents and manages many health conditions
Strengthens your heart and lungs

How Exercise Benefits Your Mind


Improves your self-esteem
Helps relieve depression
Regulates your sleeping patterns
Gives you more energy
Better concentration
Boosts confidence
Enhances your memory
Improves your body image

BACK TO TOP

Who should exercise?
Everyone! When you think of exercise, you probably imagine one of two things: 1) an athlete training for a sport, or 2) someone exercising to look better. While exercise does help people reach these types of goals, you should exercise even if you don't have these results in mind. It doesn't matter whether you play sports, what you weigh, or if you already feel healthy. Every teen can benefit from a regular fitness program—and you don't have to train for a marathon or give up your social life to achieve these benefits. All it takes is the right balance of three types of exercise.

BACK TO TOP

The 3 Keys to Fitness for Teens
There's more to physical fitness than just running or just lifting weights. Your body needs cardio (aerobic) exercise, strength exercise and flexibility exercise. Here's what you need to know.

1. Cardio Exercise


What is it? Also called "aerobic" exercise, cardio uses large muscles in a repetitive way for several minutes straight. Some examples of cardio include walking, jogging, running, dancing, skiing, rollerblading, bicycling, swimming, and aerobics classes. Some exercise machines, like the treadmill, elliptical, stair climber, and rower also give you a cardio workout.

Continued ›