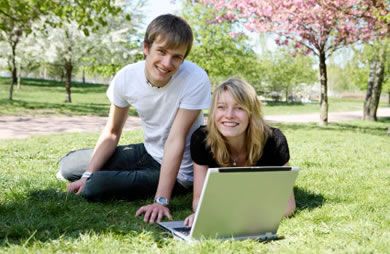 Being a part of an online community with a purpose can be a wonderful thing! SparkTeens is committed to helping you live a healthy lifestyle and achieving your goals in a safe and positive environment.

Our Message Boards, SparkPages and other community features (Teams, profiles, blogs, etc.) are great places to find other teens with common interests and goals. SparkTeens' Community is very positive and supportive and you are likely to find others who you really connect with as you share experiences and support. Although it isn't something we like to think about, it is important to remember some general safety tips about sharing information about yourself on the internet.
Remember that all public information you share on SparkTeens.com can be viewed by anyone with access to the Internet. Public posts and SparkPages may come up on Goggle, Yahoo and other internet searches. This includes information that you might post on the message boards, in your message board profile or signature, on your SparkPage, in public SparkTeams and public blog entries. The basic rules of internet networking apply on SparkTeens too, so avoid revealing identifying and personal information that you wouldn't want everyone to see. NEVER post your full name, address, city or school as this information can make it very easy for someone to locate you.

Avoid sharing personal information (names, locations, phone numbers, or email addresses) about other people too. Never put other people in jeopardy by sharing their personal information—even if they aren't members of the SparkTeens community.

Get your parents' permission before sharing your email address or phone number with other members.

When using the Internet to communicate with someone, there is no way to know for sure that a person is who they say they are. Never agree to meet someone that you have met online without a parent accompanying you. If you do meet, to pick a public place where there are lots of people.

Select a username that doesn't identify any of your personal information. Do NOT use your real name, email address, or a gender-specific name.

Harassment and bullying are a risk on the Internet. Unfortunately, even nice people in the "real" world can take on a new attitude when hiding behind a screen. Sometimes, comments and replies can be demeaning, harassing or just plain mean. If you receive a SparkMail or post reply that is obscene, harassing or threatening, report it to the SparkTeens staff immediately.

Talk with your parents about their rules and expectations for you when participating on SparkTeens. While we offer many great tools and resources, your parents need to know what you will be doing and why.
These tips are not meant to scare you, but rather to ensure your safety as you use our site. There are many wonderful benefits to participating in our Community, and we want your experience to be as positive as possible!